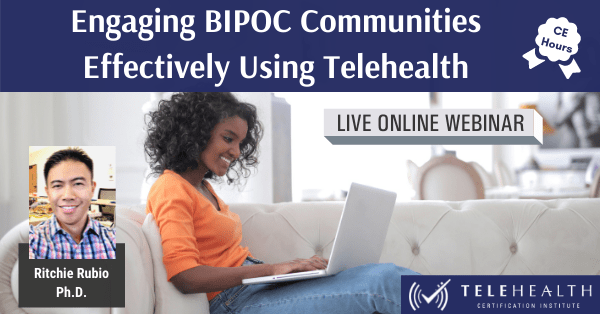 Engaging BIPOC Communities Effectively Using Telehealth
Join us for a Live Webinar on September 24, 2021 from 1-2:30 pm EST
1.5 CE Credits available for behavioral health clinicians
The goal of this training is to deepen the participants' understanding of the needs and challenges of clients who identify as Black, Indigenous, and People of Color (BIPOC) as they access and engage in behavioral health services provided through telehealth during this time of the COVID-19 and racism pandemics (Cheng & Conca-Cheng, 2020). The training will also integrate telehealth adaptations of trauma-focused and culturally-adapted interventions in working with BIPOC clients. Finally, participants will be provided with an opportunity to begin developing an implementation plan on how they will integrate trauma-informed and culturally-responsive approaches into their telehealth clinical work with BIPOC clients in their individual clinical practice and/or behavioral health programs.
Illustrate at least two ways of culturally-adapting trauma-focused interventions when working with BIPOC clients.
Identify and describe at least two strategies to increase BIPOC clients' access and engagement to behavioral telehealth.

Construct and organize a tentative plan with at least two action steps on how to use telehealth tools to help address racial trauma and other cultural needs that are unique to BIPOC clients.
1.5 CE credits for the live webinar event. Full attendance is required to receive credit.

Counselors: Telehealth Certification Institute, LLC has been approved by NBCC as an Approved Continuing Education Provider, ACEP No, 6693. Programs that do not qualify for NBCC credit are clearly identified. Telehealth Certification Institute, LLC is solely responsible for all aspects of the programs.
Telehealth Certification Institute, LLC is recognized by the New York State Education Department's State Board for Mental Health Practitioners as an approved provider of continuing education for licensed mental health counselors. #MHC-0048. Approval renewal date: 1/31/2023 
Marriage and Family Therapists: Many MFT licensing boards accept our courses or one of the approvals which we have from professional associations. You can check with your board to determine if this course would be accepted by your licensing board.
Social Workers: Telehealth Certification Institute, LLC, #1609, is approved as a provider for social work continuing education by the Association of Social Work Boards (ASWB) www.aswb.org, through the Approved Continuing Education (ACE) program. Telehealth Certification Institute, LLC maintains responsibility for the program. ASWB Approval Period: 05/02/2021 – 05/02/2024. Social workers should contact their regulatory board to determine course approval for continuing education credits. Social workers participating in the webinar will receive 1.5 clinical continuing education clock hours.
Telehealth Certification Institute, LLC is recognized by the New York State Education Department's State Board for Social Work as an approved provider of continuing education for licensed social workers #SW-0435. Approval renewal date: 2/28/2023

Psychologists: Telehealth Certification Institute LLC is approved by the American Psychological Association to sponsor continuing education for psychologists. Telehealth Certification Institute LLC maintains responsibility for this program and its content.
Other Professionals: This course qualifies for 90 minutes of instructional content as required by many national, state and local licensing boards and professional organizations.  Retain your certificate of completion and contact your board or organization for specific filing requirements.
Register for the webinar by midnight before the event. So that we can provide you these CEs, you are required to:
login and access the direct link to the webinar through your account
participate fully during the event
complete a course evaluation at the conclusion of the event
collect your certificate of completion on your account after steps 1-3 are completed
Enroll in a course by adding it to the cart and proceeding through the check out process. Create an account (or login to yours) during the checkout process.
Prepare: Download Zoom software. Participants must use a device that is connected to adequate internet speed with a camera, microphone and speakers (or headset).
Attend: Before or at 12:45 pm EST on the day of the event, login to your account on the website. Go to "My Courses", click on the title/date of the webinar. The link to join the meeting/webinar will be listed in the course content.
Attendance is automatically recorded when you use the link to join.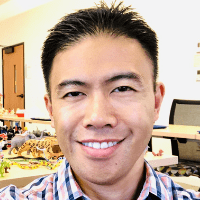 Dr. Rubio has and works as a clinical child psychologist, play and expressive arts therapist, researcher-storyteller, program evaluator, statistical consultant, data analyst, telehealth trainer/consultant, and associate professor/lecturer in a variety of clinical and academic settings including public health systems, universities, pediatric hospitals, community mental health settings, schools, and research institutes in three countries: the Philippines, U.S.A., and New Zealand. He moved from the Philippines at the age of 25, completed his Ph.D. in Clinical Psychology with a Child and Family emphasis from the California School of Professional Psychology (CSPP) through a Ford Foundation International Fellowship Program (IFP) grant. He is currently the Director of Practice Improvement and Analytics of the Children, Youth, and Families System of Care (CYF-SOC) Behavioral Health Services (BHS) at the San Francisco Department of Public Health in California, USA. In that role, he plans and coordinates a clinical practice improvement and evaluation program focused on identifying best trauma-informed and diversity-responsive practices; and utilizing implementation science to design and strengthen clinical assessment and interventions. He is also an adjunct Associate Professor at the Counseling Psychology programs of the University of San Francisco and the Berkeley Wright Institute. He teaches courses such as Research and Statistics; Crisis and Trauma Counseling; Neuroscience; Child and Adolescent Counseling; Family Violence and Protection; Individual, and Family Development; and Clinical Assessment and Measures. His clinical work was/is primarily with immigrant and multicultural children/youth and their families. He mostly integrates psychodynamic, attachment, family systems, multicultural, expressive arts, play therapy, and CBT orientations.