Beginning Friday, September 10, 2021, 1-2:30 pm EST (12pm CST/11am MST/10am PST)
Join us for this continuing education series -- a free conference held for practioners who are actively involved in supervision.  
Learn
, 
network
, and 
share
 historical and innovative practices in clinical supervision for mental health professionals.
The events scheduled in the second series with more to follow:
September 10, 2021
November 12, 2021
January 14, 2022
September 17, 2021 from 12:00pm-6:10pm EST (11am CST/10am MST/9am PST)
Calling all social workers and related behavioral health professions: you don't want to miss the FREE nationwide SOCIAL WORKERS APPRECIATION EXPO on September 17, 2021 from 12-6:10 PM EST. Behavioral health organizations have partnered from across the country to let you know how valued you are!
This half-day virtual event features...
--FREE professional development content and up to 4.5 CE hrs
--Surprises for those who attend LIVE
--Relevant, crisis-focused content (including sessions on clinical suicide prevention, racial justice and oppression, and cultural competence & telehealth)
--Expert speakers from multiple disciplines
--An optional interactive self-care session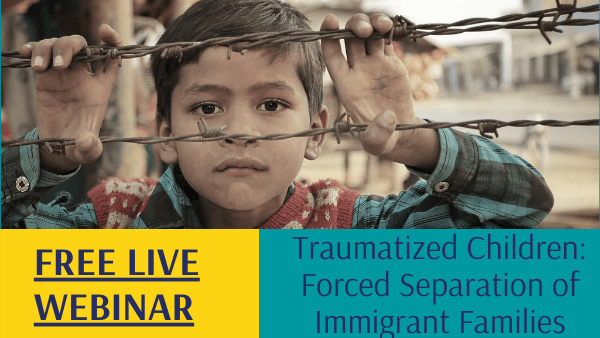 October 28, 2021 from 1:00 - 3:00pm EST (12pm CST / 10am PST)
This 2- hour webinar discusses the attachment disorders that result from the trauma of enforced family separation.  As the number of immigrants has grown exponentially and the separation of immigrant children from their families has expanded with the increase in immigration, many policies have led to attachment disorders in children who are separated from their families.
There will be a summary of the different forms of attachment disorders in general in children and the forms of treatment for addressing these disorders. A case study of a separated child and mother will be presented.
There will be a section on the ethics of treatment for separated children and the legislative policies which may have contributed to the attachment disorders.
This webinar is a good opportunity to learn the basics of identifying and treating attachment disorders in immigrant children.
Save the Date for Upcoming Events
Clinical Supervision Forum - September 10, 2021
"Approaching Culturally-Informed Intervention in Counseling & Supervision: Overview of A Comprehensive Model"

Instructor: Dr. Sonja Sutherland, PhD, LPC, ACS, BC-TMH

Date: September 10, 2021

Time: 1-2:30pm EST
Webinar Expo - September 17, 2021
Webinar Event - October 28, 2021
Register: This webinar is FREE and pre-registration is required for all attendees. We are pleased to be able to offer you CEs as a part of current issues and important dialogue. So that you can attend and we can provide you these CEs, you are required to:
Pre-Register through the website
Login and access the direct link to the webinar through your account
Participate and mark your attendance during the day of the webinar
Complete a course evaluation within one week of the conclusion of the webinar
Collect your certificate of completion on your account after steps 1-4 are completed
Enroll in the webinar by adding it to the cart and proceeding through the check out process (for $0). Create an account (or login to yours) during the checkout process.
Prepare: Download Zoom software. Participants must use a device that is connected to adequate internet speed with a camera, a microphone and speakers (or headset).
Attend: All of our times ar elisted in Eastern Standard Time.  Arrive at least 15 minutes before the event begins. Login to your account on the website. Go to "My Courses", click on the title of the webinar. The link for the webinar will be listed in the course content.
Attendance must be self-recorded by participants on their account before midnight EST the day of the event, and the course evaluation compelted within one week in order to receive CE credits.
CE credits are offered for for behavioral health clinicians - see individual courses for specific credit hours

Counselors: Telehealth Certification Institute, LLC has been approved by NBCC as an Approved Continuing Education Provider, ACEP No, 6693. Programs that do not qualify for NBCC credit are clearly identified. Telehealth Certification Institute, LLC is solely responsible for all aspects of the programs. This course qualifies for credit contact hours.
Telehealth Certification Institute, LLC is recognized by the New York State Education Department's State Board for Mental Health Practitioners as an approved provider of continuing education for licensed mental health counselors. #MHC-0048. Approval renewal date: 1/31/2023
Marriage and Family Therapists: Many MFT licensing boards accept our courses or one of the approvals which we have from professional associations. You can check with your board to determine if this course would be accepted by your licensing board.
Social Workers: Telehealth Certification Institute LLC, #1609, is approved to offer social work continuing education by the Association of Social Work Boards (ASWB) Approved Continuing Education (ACE) program. Organizations, not individual courses, are approved as ACE providers. State and provincial regulatory boards have the final authority to determine whether an individual course may be accepted for continuing education credit. Telehealth Certification Institute LLC maintains responsibility for this course. ACE provider approval period: 05/02/2018 – 05/02/2021. Social workers completing a live webinar receive clinical continuing education credits.
Telehealth Certification Institute, LLC is recognized by the New York State Education Department's State Board for Social Work as an approved provider of continuing education for licensed social workers #SW-0435. Approval renewal date: 2/28/2023
Addiction Professionals: Telehealth Certification Institute is an approved provider of continuing education by NAADAC, The Association for Addiction Professionals, provider #193104, effective 02/23/2021. Full attendance is required; no partial credit will be awarded for partial attendance.
Psychologists: Telehealth Certification Institute LLC is approved by the American Psychological Association to sponsor continuing education for psychologists. Telehealth Certification Institute LLC maintains responsibility for this program and its content.
Other Professionals: This activity qualifies as instructional content as required by many national, state and local licensing boards and professional organizations.  Retain your certificate of completion and contact your board or organization for specific filing requirements.
Registration for a Free webinar event does not included access to the recording.
We do record the events and convert them to online self-studies when possible. Registration for recorded courses is required.
Free Recorded courses can
be found here

Online Self-Studies that offer CEs
can be found here