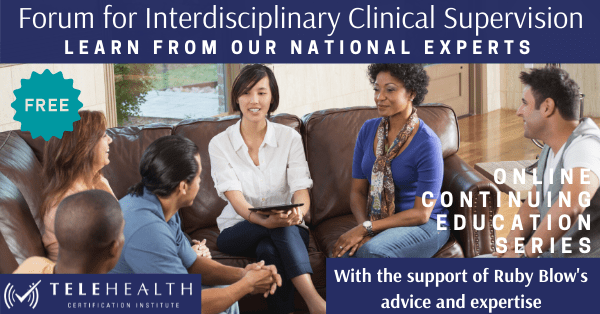 Join over 2,000 other supervisors and be a part of the Interdisciplinary Clinical Supervision Forum!
The Clinical Supervision Forum is an ongoing series of live webinars and peer interaction. Registration in the Forum includes all live events scheduled as of registration date. Participants can also choose to enroll in events individually. As events are added, participants are asked to re-register for the Forum for an updated course list.
Friday, May 20, 2022 - Details
Date: Friday, May 20, 2022 - 1:00 pm - 2:30 pm EST

Course Title: It's Complicated: Special Considerations for Supervising Clinicians Treating Eating Disorders

Description:
Eating disorders are complex disorders that affect nearly all domains of functioning and pose an increased risk for serious medical complications and suicide. Standard treatment plans for eating disorders include a combination of psychotherapy, medical care and monitoring, nutritional counseling, and psychotropic medications -- resulting in the necessity for clinicians to possess a high level of specialized and cross-disciplinary knowledge.  As such, these complex disorders require additional considerations when it comes to providing clinical supervision and consultation. This webinar will examine the ethical and practical considerations for supervising clinicians treating eating disorders including how to assess client risk and level of care appropriateness, how to assess clinician competency, and how to access the training resources necessary to provide ethical and effective care.

Learning Objectives:

Describe at least two ethical challenges that can arise in the treatment of eating disorders.
Describe how to apply at least two elements of the Competency-Based Supervision model when supervising therapists treating eating disorders.
Speaker: Melanie Smith, PhD, LMHC, CEDS-S
Friday, July 15, 2022 - Details
Friday, September 16, 2022 - Details
TBA November 2022 - Details coming soon
Friday, January 20, 2023 - Details
We do not provide recordings of live events. Whenever possible, live events are converted into online self-study courses.
Register now for the 1 CE Self-Study of Ruby L. Blow's "Supervising Therapists Through Life's Challenges" (recorded 11/13/2020)

Register now for the 1 CE Self-Study of Dr. Paula J. Britton's "Infusing Postmodernidm into Mental Health Supervision" (recorded 12/11/2020)

Register now for the 1 CE Self-Study of Dr. Kristy Christopher-Holloway's "Competency-Based Approach to Group Supervision: Supervisor Multicultural Humility, Supervisee Self-Efficacy, and Client Satisfaction" (recorded 01/08/2021)

Register now for the 1 CE Self-Study of Dr. Malcolm Horn's "Navigating Licensure Supervision Within an Organization" (recorded 02/12/2021)

Register now for the 1 CE Self-Study of Sarah Scott Dooling's "Special Considerations when Supervising Child Therapists" (recorded 03/12/2021)

Register now for the 1 CE Self-Study of Dr. Sonja Sutherland's "Culturally Competent Supervision" (recorded 04/09/2021)

Register now for the 1 CE Self-Study of Ruby Blow's and Ray Barrett's "Preparing Suopervisees for Telemental Health" (recorded 11/12/2021)

Register now for the 1 CE Self-Study of Vicki Loyers's and Tara Gardenshire's "Creating a Vision: Supervising Family Therapists to See "The How'" (recorded 1/14/22)
3-Hour Supervision Intensives
Join us for a deeper dive into clinical supervision topics, and a greater opportunity for discussion and engagement. Earn CE hours toward your supervision certification or credentials.
Additional Supervision Webinar that offers 3 CEs and Expanded Content
We are excited to announce that in addition to the Supervision Forum, we will be hosting additional supervision-related 3-hour webinars begining April 29, 2022.
These 3-hour events are NOT included with Clinical Supervision Forum registration. Separate registration is required.
Born and raised in Brooklyn, New York, Dr. Sutherland is the founder and CEO of Legacy Changers Worldwide, an organization dedicated to providing family education and mental and emotional wellness resources. The Legacy Changers Worldwide umbrella has provided support through the Legacy Changers Counseling Center, The Family Healing Room, VASAYO, and previously as host of a local Atlanta talk-radio show focusing on family relationships and mental wellness. In addition, Dr. Sutherland provides intermediate and advanced continuing education workshops for licensed clinicians, and post-masters supervision for associate licensed clinicians through Legacy Professional Development & Training. More information on services and programs offered by Dr. Sutherland can be found at http://legacychangersworldwide.com/
In the mental health field since 1998, and licensed since 2001, Dr. Sutherland has provided therapeutic services in the private practice, psychiatric residential, in-home, and outpatient mental health settings, for adolescents and adults, through individual, group, couples, and family therapy. She has specialized in working with adolescents, couples and families for the last 22 years. One of Dr. Sutherland's historical research interests has been evidence-based treatment within residential settings for commercially sexually exploited youth, which was a primary focus of her dissertation and clinical expertise during her years as a clinician in the psychiatric residential setting. Her ongoing research interests include clinician-in-training cultural competence development and clinical supervision.  Within the last 5 years, Dr. Sutherland has provided training, researched, and published in the areas of racial trauma, cultural competence development and training, the provision of culturally-informed clinical intervention and supervision, and social justice advocacy. Dr. Sutherland's CV can be found at https://drsonjasutherland.com/
Vicki Loyer (Carlson) Ph.D., LMFT, is the CEO/President of Blue Door Psychotherapy, a center for individual and family therapy services and a center for family therapy training. She is a clinical assistant professor at the University of Arizona Department of Psychiatry, and a Subject Matter Expert, Site Supervisor, and Instructor for Graduate Studies at Grand Canyon University. Using a competency focused family therapy approach to working with individuals and families, she provides equine assisted psychotherapy as an experiential therapy for greater depth. Most recently, as a result of Covid-19 restrictions, Dr. Loyer has expanded her practice and teaching in the area of delivering quality Telemental Health and has been a co-organizer of Webinars on Telemental health Ethics and Effective Therapy. Dr. Loyer is a regular contributing author to the House Calls section of the Tucson magazine Desert Leaf, has co-author of books on premarital relationships and youth-at-risk, and has been publishing and speaking in the areas of self-injury, mental illness, addiction, and family therapy for many years. Dr Loyer is an AAMFT Clinical Member, Approved Supervisor and a past president of the Arizona Association for Marriage & Family Therapy (AzAMFT).
Tara Gardenhire, MA, LMFT, Approved Supervisor believes in a whole health approach to mental health treatment with a focus on nutrition, exercise, and spirituality. She specializes in life span development (children, adolescents, adults, and aging) and family therapy, emphasizing work with trauma survivors, substance abuse, parenting, and couples. Tara has worked in the field of mental health for 10 years and is a licensed Marriage and Family Therapist.
Dr. Rosalind Polk-Hall, EdD, LPC, CPCS
Dr. Rosalind (Dr. Roz) Polk-Hall is a licensed professional counselor in the state of Georgia. Dr. Roz is remarkably diverse in her scope of practice as she is an active therapist in her community and serves as a clinical supervisor both in private practice and with community counseling agencies in the Atlanta area. Her current practice focus with supervision is to provide professional growth and development to master level supervisees via tele-supervision and tele-consultation. Her practice is exclusive to both individual and group supervision. Dr. Roz serves as clinical supervisor in various community counseling agencies in addition to providing individual, couples, and family therapy to clients served in the community. Dr. Roz has been a therapist in the field of counseling since 1998 and a clinical supervisor since 2006. She was an adjunct professor at Argosy University, Atlanta, for eight years while pursuing her doctoral degree in Counselor Education and Supervision. Throughout her career, she has played a vital role in guiding and directing numerous supervisees towards licensure and interns working towards graduation. Dr. Roz is an approved certified professional counselor supervisor in the state of GA. 
Contact Dr. Roz by clicking here
Ruby L. Blow, MA, LPC, NCC, BCC, CPCS, ACS,BC-TMH
Ruby Blow is a licensed professional counselor in the state of Georgia. Her current practice focus is professional development and she provides tele-supervision and tele-consultation. Her services include both group and individual modalities. She is a leader in the field of clinical supervision practice and has been in practice for 22 years. In 2012, Ruby won the Counselor Educator of the Year Award in the state of Georgia from the Professional Counselors Association. She has worked with mental health professionals in the area of clinical development from the beginning of her career. She taught for 10 years as an adjunct faculty member at Argosy University Atlanta. During her time as a clinical instructor, she led students in their practicum internships as their instructor of record. She gained experience in distance supervision leading all online sections of practicum/internship seminar. Ruby is an approved clinical supervisor and a board certified telemental health provider. 
Laura Fazio-Griffith, PhD., NCC., LPC-S., LMFT., Registered Play Therapist-Supervisor
Dr. Laura Fazio-Griffith received her PhD from the University of New Orleans in Counselor Education.  She is a national certified counselor, licensed professional counselor supervisor, a licensed marriage and family therapist, and a registered play therapist supervisor.  Dr. Fazio-Griffith was the clinical director for the Counseling and Training Center of Families Helping Families of Greater New Orleans for approximately 5 years.  She provided individual, group, and family counseling as well as supervision for master's level counseling interns.  She has been an adjunct assistant professor at UNO, Southeastern, and LSU. She joined our faculty in August of 2010 after completing two years as a visiting assistant professor at LSU. She served as the president of LACES from 2004-06 and was the Counselor Education representative on the LACES board until July 2011. She served as treasurer on the Louisiana Association for Play Therapy Executive Board and is Past-President of the Louisiana Association for Play Therapy.  She has served as president for the Louisiana Association for Career Development and also serves on two national editorial boards. She serves on the American Counseling Association Branch Development Committee, and the Association for Play Therapy Education Committee and Registration and Credentialing Committee and University Education Committee, and Nominations and Elections Committee as well as the task force to develop a history of play therapy for APT. She has developed the play therapy program and the counseling program is an approved provider from the Association for Play Therapy for continuing play therapy education.  She has presented nationally and statewide on various topics related to supervision, play therapy, and group work.   Her research interests include group work, personality disorders, supervision, and play therapy. Dr. Fazio-Griffith was honored by the Louisiana Association for Counselor Education and Supervision as the Senior Counselor Educator of the year at the 2016 LCA Conference, the award for Distinguished Professional Service, 2018 for the Louisiana Counseling Association, and the Senior Supervisor Award by the Louisiana Association for Counselor Education and Supervision at the 2019 LCA Conference, and the Play Therapist of the Year: Lifetime Achievement by the Louisiana Association for Play Therapy in 2020. Dr. Fazio-Griffith was appointed to the LPC Board by the Governor effective September 1, 2018. Dr. Fazio-Griffith is the faculty advisor for the counseling programs Chi Sigma Iota chapter.  She is the recipient of the Nell Yarborough Sibley Endowed Professorship in Human Sciences for 2020-23.
You can find Dr. Fazio-Griffith by clicking here.
Kristin Ryan, M.S., L.P.C., CPCS, NCC
Kristin Ryan, M.S., L.P.C., CPCS, NCC, owner of Grow Deep Counseling, LLC, is a passionate, skilled licensed counselor, counselor educator, clinical supervisor, speaker/trainer, and consultant with over 25 years of experience.  Kristin draws from her extensive counseling experience and expertise to deliver engaging workshops to a variety of audiences from small groups to large public and private institutions, churches, agencies, and practices both in person and online. With a gift for growing and mentoring people, Kristin delivers practical workshops and trainings in an engaging style where audiences learn applicable tools and concepts for enhanced personal knowledge and professional practice.
You can read more about Kristin Ryan by clicking here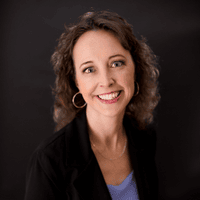 Details about Kristin Ryan (9/16/2022 Supervision Instructor)
Raymond Barrett, CEO, LMHC, LPC
Raymond Barrett, CEO, LMHC, LPC, is a licensed professional counselor and an expert telemental health consultant/founder of the Telehealth Certification Institute (TCI). A master trainer, Ray has released over 50 high-quality courses for thousands of clinicians and healthcare providers and trained 1,919+ organizations in telehealth.
When Ray's first clients began asking for sessions over the phone, Ray quickly discovered a knowledge gap in telehealth training. Ray's inspiration for TCI came from his desire for comprehensive and practical training in telemental health for both himself and fellow clinicians. Ray's extensive review of telehealth research and literature, along with his virtual counseling, executive coaching, psychiatric assessment, and employee assistance program experience, contributed to his course design.
In a profession known for regulatory pressures, Ray emphasizes ethical telehealth delivery across the board. He continues to see a limited number of private practice clients and rigorously reviews telehealth developments to ensure his courses are up to date and meet industry-best standards.
Ray is committed to cultivating a compassionate, person-centered organization that supports clinicians, patients, and the greater healthcare community.
You can find Ray here: https://telementalhealthtraining.com/
Melanie Smith, PhD, LMHC, CEDS-S
Melanie Smith, PhD, LMHC, CEDS-S, is the Director of Training for The Renfrew Center for Eating Disorders. In this role, she provides ongoing training, supervision and consultation to clinicians across disciplines for the purpose of continually assessing and improving competence in the treatment of eating disorders. Dr. Smith is co-author of The Renfrew Unified Treatment for Eating Disorders and Comorbidity Therapist Guide and Workbook (Oxford University Press), is a Certified Eating Disorders Specialist and Approved Supervisor, and is a Certified Therapist and Trainer for the Unified Protocol for the Transdiagnostic Treatment of Emotional Disorders (UP).  In addition to her work with the Renfrew Center, Dr. Smith maintains a telehealth private practice specializing in the supervision and consultation of registered mental health counselor interns (Florida) and individuals seeking eating disorder specialist certification through the International Association of Eating Disorders Professionals (iaedp).
Khara Croswaite Brindle, MA, LPC, ACS
Khara is passionate about giving people aha moments that create goosebumps and catalyze powerful action. Khara began her career in community mental health and enjoys providing supervision of fellow supervisors to further develop their leadership style. She is a Licensed Professional Counselor, Approved Clinical Supervisor, and owner of a group private practice in Denver, Colorado. Khara is the co-founder and co-author of The Empowerment Model of Clinical Supervision and provides clinical supervision training opportunities and consultation within the mental health profession.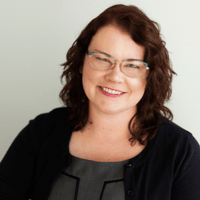 Details about Khara Croswaite Brindle (1/20/2023 Supervision Instructor)
Receive email notifications of our upcoming clinical supervision courses.