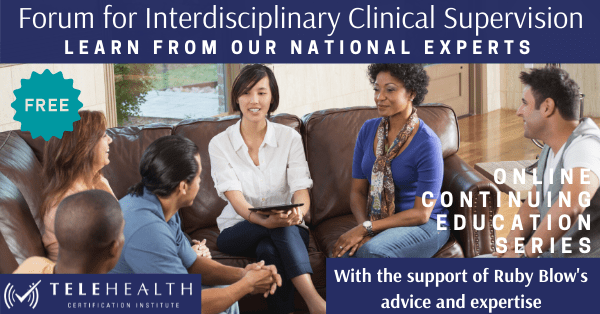 Join over 2,800 other supervisors and be a part of the Interdisciplinary Clinical Supervision Forum!
The Clinical Supervision Forum is an ongoing series of live webinars and peer interaction. Registration in the Forum includes all live events scheduled as of registration date. Participants can also choose to enroll in events individually. As events are added, participants are asked to re-register for the Forum for an updated course list.
Friday, September 16, 2022 - Details
Date: Friday, September 16, 2022 - 1:00 pm - 2:30 pm EST
Course Title: Documentation for Supervisors

Description:
Documentation is often overlooked in supervision because we dread it. It is frustrating and time consuming to translate the great work we do (talking, connecting, and sharing) into written form, after it has occurred, both clinically and in supervision. As supervisors, we are responsible for every aspect of clinical service our supervisees provide. Documentation is an important way to monitor their work with clients and help ensure quality care, competence, compliance with guidelines and timely payment. With practical tips and reminders, this course will provide discussion of the importance of documentation, suggestions for enhanced content, and what to document for supervision itself to simplify the documentation process.
Learning Objectives:

Describe the value of documentation in supporting our work in monitoring professional services.

Identify several tips for enhanced, best practice content.

Define key components of maintaining a supervisee file and suggestions for quality supervision notes
Speaker: Kristin Ryan, MS, LPC, NCC, CPCS
Friday, November 11, 2022 - Details
Friday, November 18, 2022 - Details
Friday, January 20, 2023 - Details
We do not provide recordings of live events. Whenever possible, live events are converted into online self-study courses.
Register now for the 1 CE Self-Study of Ruby L. Blow's "Supervising Therapists Through Life's Challenges" (recorded 11/13/2020)

Register now for the 1 CE Self-Study of Dr. Paula J. Britton's "Infusing Postmodernidm into Mental Health Supervision" (recorded 12/11/2020)

Register now for the 1 CE Self-Study of Dr. Kristy Christopher-Holloway's "Competency-Based Approach to Group Supervision: Supervisor Multicultural Humility, Supervisee Self-Efficacy, and Client Satisfaction" (recorded 01/08/2021)

Register now for the 1 CE Self-Study of Dr. Malcolm Horn's "Navigating Licensure Supervision Within an Organization" (recorded 02/12/2021)

Register now for the 1 CE Self-Study of Sarah Scott Dooling's "Special Considerations when Supervising Child Therapists" (recorded 03/12/2021)

Register now for the 1 CE Self-Study of Dr. Sonja Sutherland's "Culturally Competent Supervision" (recorded 04/09/2021)

Register now for the 1 CE Self-Study of Ruby Blow's and Ray Barrett's "Preparing Suopervisees for Telemental Health" (recorded 11/12/2021)

Register now for the 1 CE Self-Study of Vicki Loyers's and Tara Gardenshire's "Creating a Vision: Supervising Family Therapists to See "The How'" (recorded 1/14/22)
Register now for the 1 CE Self-Study of Dr. Laura Fazio-Griffith's "Expressive Arts and Play Therapy for Supervision'" (recorded 3/11/22)
Register now for the 2 CE Self-Study of Dr. Melanie Smith's "It's Complicated:Special Considerations for Supervising Clinicians Treating Eating Disorders " (recorded 5/20/22)
Register now for the 1 CE Self-Study of Dr. Rosalind Polk-Hall's "How Clinical Supervisors Can Adjust Their Evaluative Lens by Understanding the "Zone of Proximal Development": (recorded (7/15/22)
3-Hour Supervision Intensives
Join us for a deeper dive into clinical supervision topics, and a greater opportunity for discussion and engagement. Earn CE hours toward your supervision certification or credentials.
Additional Supervision Webinar that offers 3 CEs and Expanded Content
We are excited to announce that in addition to the Supervision Forum, we will be hosting additional supervision-related 3-hour webinars.
These 3-hour events are NOT included with Clinical Supervision Forum registration. Separate registration is required.
Raymond Barrett, CEO, LMHC, LPC
Raymond Barrett, CEO, LMHC, LPC, is a licensed professional counselor and an expert telemental health consultant/founder of the Telehealth Certification Institute (TCI). A master trainer, Ray has released over 50 high-quality courses for thousands of clinicians and healthcare providers and trained 1,919+ organizations in telehealth.
When Ray's first clients began asking for sessions over the phone, Ray quickly discovered a knowledge gap in telehealth training. Ray's inspiration for TCI came from his desire for comprehensive and practical training in telemental health for both himself and fellow clinicians. Ray's extensive review of telehealth research and literature, along with his virtual counseling, executive coaching, psychiatric assessment, and employee assistance program experience, contributed to his course design.
In a profession known for regulatory pressures, Ray emphasizes ethical telehealth delivery across the board. He continues to see a limited number of private practice clients and rigorously reviews telehealth developments to ensure his courses are up to date and meet industry-best standards.
Ray is committed to cultivating a compassionate, person-centered organization that supports clinicians, patients, and the greater healthcare community.
You can find Ray here: https://telementalhealthtraining.com/
Melanie Smith, PhD, LMHC, CEDS-S
Melanie Smith, PhD, LMHC, CEDS-S, is the Director of Training for The Renfrew Center for Eating Disorders. In this role, she provides ongoing training, supervision and consultation to clinicians across disciplines for the purpose of continually assessing and improving competence in the treatment of eating disorders. Dr. Smith is co-author of The Renfrew Unified Treatment for Eating Disorders and Comorbidity Therapist Guide and Workbook (Oxford University Press), is a Certified Eating Disorders Specialist and Approved Supervisor, and is a Certified Therapist and Trainer for the Unified Protocol for the Transdiagnostic Treatment of Emotional Disorders (UP).  In addition to her work with the Renfrew Center, Dr. Smith maintains a telehealth private practice specializing in the supervision and consultation of registered mental health counselor interns (Florida) and individuals seeking eating disorder specialist certification through the International Association of Eating Disorders Professionals (iaedp).
Dr. Katherine Hertlein, PhD
Dr. Hertlein earned her PhD at Virginia Tech and her master's degree from Purdue University Calumet. Across her academic career, she has published over 90 articles, 40 book chapters, and 12 books in the areas of couple therapy, infidelity, sex therapy, behavioral health, and the impact of technology on couple and and family relationships. Her contributions in sex therapy promote a paradigm shift in the treatment of sexual dysfunctions in couple relationships, are considered seminal texts, and used by couple and family therapy programs widely. Her contributions in the area of technology include the development of the core competencies for behavioral health which can be applied to all of the behavioral health disciplines, and the creation of the first comprehensive framework detailing the effect of technology on relationships which has been applied cross-culturally.
Receive email notifications of our upcoming clinical supervision courses.